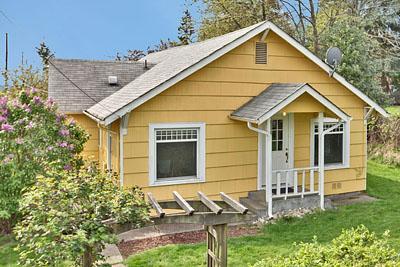 Seattle Homestead History:
We purchased the Seattle Homestead on March 24th, 2011, and quickly began a 2 week process of painting and moving.  Then I ripped out a big chunk of lawn and made raised garden beds covered in white clover. Most of the winter of 2011-2012 was spent preparing to build an earthen wall around the house and sheet mulching most of the yard (we're almost entirely grass free now).
Spring, summer, and fall of 2012 was spent building a chicken coop (we have 5 hens now), ripping out a chain link fence and hedges, building a 120 foot long earthbag wall, installing a brick patio, and getting funny looks from everyone who drove past our home.
2013 will bring more work and completion of our wall, and finally, more plants!
Homestead Stats:
Lot Size: 6720 sq ft (between 1/6th and 1/7th of an acre, or 0.154 acres for you decimal freaks)
The House: 3 Bedrooms, 1 bathroom, roughly 1150 sq ft.  Built in 1929.
Location: Arbor Heights neighborhood of West Seattle
Total Wood Chips Hauled In: ~26 yards as of March 2012
Total Soil Hauled In: ~10 yards of soil mix for garden beds, and about 5 yards of sandy soil to fill in behind a retaining wall.
Total Grass Removed:  ~2200 square feet as of March 2012
Total Large Perennials Planted: 4 Apple trees, 4 Blueberry Bushes
Earthbag Wall Stats:
Length of Wall: ~120 feet
Height: 6 feet
Polypropelene Sandbags Used: 1500
Cubic Yards of Fill Dirt Inside the Wall: Somewhere around 30-40
Number of Neighbors Who Have Stopped By To Ask What On Earth We Were Doing: 110-120 as of Fall 2012 (and we enjoyed meeting every one of them!)
The Homestead Plan:
The only true homestead plan exists in Kane's head.
For now, check out the Homestead Goals for 2011, 2012, and 2013, and take a glance at the bullet points:
Get rid of most grass to make way for garden (done winter 2011/2012), raising chickens (done summer 2012), social space (in progress), and other more useful things in life
Build a wall / fence to block noise from street and to simultaneously support raised beds (started summer 2012, completing in 2013)
Harvest plenty of vegetables, fruit, herbs, mushrooms, and medicinal plants
Convert front yard into a more usable social space including fire pit area, picnic space, pergola, etc. (started summer 2012, completing over next few years)